ACTIVE MINI DIGGERS GOES WHERE OTHERS CAN'T!
We are a unique service in the Fraser Coast region offering a range of equipment suitable for limited access works. Small sites and narrow access is the result of a growing infill development trend in many towns and cities where existing areas are redefined and remodelled to include additional dwelling, recreational and business space, hence the need for specialised equipment in these areas. Our equipment provides ease and efficiency with moving items into and from small areas, without the need for excessive labour costs.

Why choose Active Mini Diggers for your next project?
Active Mini Diggers is equipped to assist with local government projects, civil construction, building works, and in private sector (residential) areas. We provide excavation services for landscape projects, trenching (power/water/irrigation/solar), drainage works, foundations, footpaths, walk/bike trails, driveways, swimming pools, preparation of building pads for tanks/sheds, fencing, retaining walls, rock walls, rock/log placement, turfing works and more.
Additionally, we can assist with yard clean-ups and rubbish removal and tree and palm removal and relocation.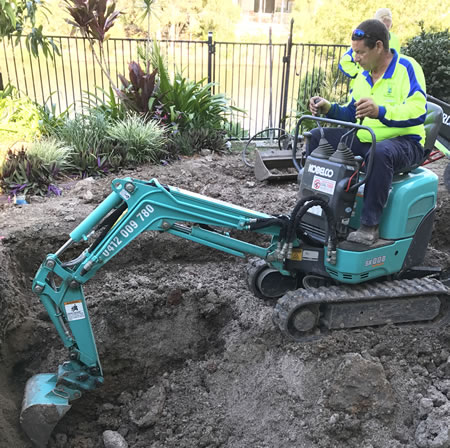 Craig Gibbons has many years of experience in the civil construction and landscape trades gained through plant operation, business and management roles.
Craig values honesty, reliability and takes pride in his work using quality materials and best practice techniques.
Our business concept was realised during employment in the civil construction industry when it became evident that sourcing specific equipment for tight access work was very difficult in the Fraser Coast region.
Active Mini Diggers began in January 2016 with just one mini excavator and a mission to provide a specialised excavation service to local government, civil construction and building industries and to the private residential sector.
Contact Craig at Active Mini Diggers for your next project!